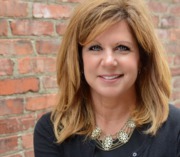 Staci Flispart is a lifelong resident of Southern Indiana with an extensive background in the financial industry.  Leveraging her experience as a successful banking executive into the real estate industry, helped her achieve the Southern Indiana Real Estate Association (SIRA) Rookie of the Year Award in her first year as a REALTOR®.  Staci loves helping people so real estate was the perfect "next step" after banking.
Staci is known for outstanding customer service and prompt response to her clients using a broad array of marketing techniques and personal touches.  She consistently shows her priority in client satisfaction in the home buying and selling process. 
While taking advantage of the high-tech tools that are available to enhance the online presence of her client's needs, Staci also values traditional elements such as personal communication and the ability to listen to her client's requests.
Staci continues to be involved in community boards and volunteer activities, while also enhancing her ability as a REALTOR® by participating in education opportunities.  Staci fully believes in giving back to the community that has been like her family since she was born.   Staci is dedicated to serving her clients and her community making her a great fit for all your real estate needs.
Staci is married to Paul and together they have two children, twins, Emilee and Jacob Flispart.
Testimonials
"Staci was the realtor we chose recently when we were preparing to sell our house. We chose to use Staci based on a recommendation by friends of ours as well as all the positive reviews provided by her customers. Staci was very easy to talk to, she was quick to respond, knowledgeable in her responses and she was very organized and thorough in each step of the process of listing and selling our home. We loved the professional photos she used in our listing. If we ever sell or buy another home in the area, we would definitely call Staci."
Sharon K.
"As a first time home buyer, Staci was great to work with. She put us in a great home. Her attention to our needs and desires resulted in a smooth process from start to finish. I definitely recommend Staci to anyone in the area in need of a great realtor."
C. A. Chevalier